This post may contain affiliate links. This means that if you click through to a website and register or purchase something, I may get a small commission at no extra cost to you. I will never link to anything that I don't value or haven't used myself.
I started matched betting about three years ago when I was knee-deep in debt. I was googling ways to make money online when I stumbled across a sketchy looking post about matched betting. It detailed how easy it was to make quite huge sums of money and I initially thought it was some kind of scam. After all, if you could make such a huge amount of tax-free money from the comfort of your own home then why wasn't everyone doing it?
But my curiosity got the better of me, so I dug deeper. And I'm glad I did, as I went on to make £18,000 from matched betting and this helped us to get out of debt so much more quickly than we would have been able to without it.

What exactly is matched betting?
Bookmakers regularly offer free bets to lure new customers in. Matched betting is a technique used to make money from the bookmakers' free bet offers on various sports events. You place a 'back' bet and a 'lay' bet at two separate bookmakers covering the same event, thereby covering all outcomes of the game. Once these bets have settled, your free bet is released and this is where you make your money. We turn the free bets offered by bookmakers into real cash! You can do this numerous times with hundreds of different bookies.
A typical matched betting offer would be something like 'Bet £20 to get £20 in free bets". So you would place your qualifying £20 back bet and then place your lay bet (so that all angles of the game are covered and you don't lose your money). When the qualifying bet settles, your free bet will be released. From this free bet you'll make around £15 profit.
How do free bets work?
Once your qualifying bet has settled you will receive your free bet. However, this free bet is not yet profit – you need to place the bet in order to release the cash. Now, if you just place the bet and hope it wins so that you can take the cash, you're probably going to lose out a lot of the time. That's why we also place a lay bet, along with using the free bet. This ensures that all angles of the game are covered, just like when you placed your qualifying bet. Once your free bet has settled, you will be able to take your profit!
It sounds complicated. Will I really be able to do it?
Absolutely! I had never placed a bet before in my life and I was clueless about odds. I didn't know anything about football or any other sporting event and I really wasn't interested in sports either. But none of this held me back.
I'd heard a lot of positive things about Outplayed (previously Profit Accumulator), so I signed up for a free trial, figuring I had nothing to lose. I watched their tutorial videos and I have to admit that the concept didn't really sink in the first time. Or the second. But the more I watched them the more I began to understand how it all worked. I soon felt confident enough to place my first bet and it was so easy! Outplayed literally walked me through the bet step-by-step and couldn't have made it any easier.
I still hate sports and still know nothing about football or odds but it doesn't hold me back at all. So please don't let your lack of confidence stop you from trying. You don't need to be good at maths either!
Is matched betting gambling?
No, matched betting IS NOT gambling. You will be covering all outcomes of the event, so your money is not at risk. With the specialised calculators you'll be using (and trust me – you will want to be using these calculators as it makes the whole thing so much faster and easier), you'll know exactly how much profit you will be walking away with – to the last penny. You don't care about the outcome of the game, as your profit is guaranteed regardless of the outcome.
With gambling, on the other hand, your money IS at risk. Traditional gambling is extremely risky as you are relying on one particular outcome in order to profit. That outcome is obviously not guaranteed and you are likely to lose your money a lot of the time.
Is matched betting legal?
Yes, matched betting is 100% legal. In fact, matched betting has been featured in many reputable sources, such as The telegraph , Bloomberg and the Guardian. The bookies don't like you doing it as it costs them money but it's not illegal and they can't 'come after you'. You may find that if a bookmaker believes you are matched betting they will 'gubb' you. All this means is that they will close your account with them. This has no effect on your credit rating at all and there are hundreds more bookies out there that we can make money from. Everyone who does matched betting will face more than one gubbing at some point.
Is matched betting a scam?
Absolutely not! Hundreds of thousands of people are making serious money from matched betting and I've personally made well over £18,000 from matched betting myself. I can assure you that it's not a scam. Initially, I did think 'if it's so good then everyone would be doing it' but I guess that some people really do think that it's too go to be true and that puts them off.
Outplayed, the company I use to do my matched betting, offers a free trial so you can see if it's for you before you spend a penny. By signing up for the free trial you'll be able to learn the basics of matched betting and earn over £40. You'll have access to some of their software and you'll get a really good feel for how matched betting works.

They are a very well-known and reputable company and you can check out their reviews on Trustpilot for your own peace of mind.
There are, of course, many other matched betting services available but I can't recommend any of them as I have no experience of using them.
If, once you have completed your free trial, you decide that you enjoyed it and want to go on to make more money, you can fully sign up for £24.99 per month. This sounds like a huge amount of money but you will easily make this money back within the first two days of every month. Again, if after signing up you decide that you no longer want to continue you are free to cancel at any time. You don't need to give any notice. This is exactly what I planned to do – cancel after my first month's payment but here I am, years later and still making a profit from matched betting.
Do I need to use a matched betting service?
Absolutely not! But I promise you that you will make far more money if you do. This is because these companies spend endless hours trawling through bookies for the best matched betting offers available. They then list them on their platform for you to view. So, instead of searching each bookie individually yourself, you simply log into Outplayed, or whichever company you have signed up with, and go through the daily offers one by one, ticking them off as you go. This will save you so much time and means you can race through the offers and make more money.
Another huge benefit of signing up with a matched betting service is that they have step-by-step guides for you to follow. These were invaluable for me and there is no way I could have coped without them. They offer these guides in video format and written format and I made use of both. Furthermore, if there's anything you don't understand, they offer a support service which is all included in the price.
In addition to the guides, these services have a range of calculators for you to use, making calculating odds a breeze. They also tell you exactly how much to bet and give you the total profit figure you'll walk away with from each bet. These calculators do much, much more than this and the guides fully explain when it's appropriate to use each calculator.
You can start today with FREE trial from Outplayed. You will get a week to try it out and see if you like it and you can expect to earn £45 with the first two offers. If you don't like it you can cancel with no questions asked.
How much money do you need to start with?
You need around £50 to get started with matched betting. You don't lose this money but you need it in order to be able to place bets in order to unlock the free bets. I started with £50 but I know others who started with more. I could only afford £50 at the time, yet I still managed to amass a huge profit of over £18k. So, it's perfectly fine to start with a small amount, but the more you start with, the quicker you'll be able to build your profits. This is because you will be able to place more bets at the same time instead of having to wait for one bet to settle before you place your next bet.
If you're struggling to get together any money to start with, take a look at my post on completing surveys online. I still do these regularly and make around £30 per month.
Will I have to pay tax on my profits?
Absolutely not! One of the perks of matched betting is that we don't pay tax on any of the profit we make. That £18k I made – I didn't have to pay a penny in tax. Gambling in the UK is currently tax free and because matched betting is classed as gambling (even though it's not really gambling as our profit is guaranteed) any earnings we make from it are totally tax free.
Do I need a separate bank account?
No, you don't but I really recommend that you get yourself a separate account as it makes keeping track of your profits so much easier. I signed up for an online bank account with Monzo, which I used just for my matched betting. Starling is another popular banking app used by matched betters. Both are very easy to sign up for and I managed to set mine up within just a few minutes. If you sign up to Monzo via my link, they will drop £5 into your account for free!
Will it impact my credit rating or mortgage application?
This is a very common question and an important one too.
Bookmakers may run soft checks on your credit report – just like when you use a price comparison website for your car insurance. This doesn't really have any negative effect on your credit report.
However, if you are considering applying for a mortgage, the safest thing to do would be to stop depositing into bookmakers' websites about 3-6 months prior to making your mortgage application. This is because mortgage lenders typically scrutinise your bank accounts and outgoings. They are not going to look favourably on multiple betting transactions. Once your application has been improved, then you're free to start making money again!
How much time will I need to do matched betting?
Matched betting is such a flexible way to earn money. You can spend 20 minutes a day doing it or you can spend 4 hours a day doing it. The more time you dedicate to it the bigger your earning potential. I typically spent around 2 hours in the evenings doing it after I had put the kids to bed and I averaged around £800 per month. I did it around my full-time job but some people actually turn it into their full-time job as they find that they earn more doing matched betting than they do their regular job.
Where do I start?
The best place to start is to sign up for Outplayed's free trial to make sure that matched betting is really for you. This will enable you to get a feel for the whole thing and learn more about the process. You will be able to place your starter bets and start profiting right away. By the time you've done these initial bets, you should have a good idea of whether you'd like to continue or not.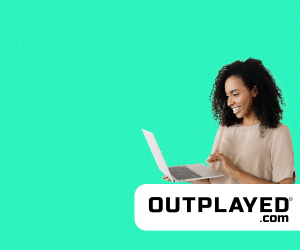 LATEST POSTS